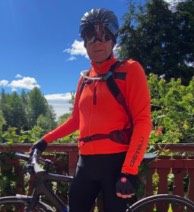 I'm a passionate bike rider, particularly in the mountains around where I'm leaving just north of Oslo in Norway.
Here you will find some of mine chosen rides, with descriptions, photos and short movies, these rides will be the one that is my favorites.
Biking is for me not only for the physical but also for mental training, particularly when I'm ride in the mountains
You can find all my rides on Strava.
Change to a healthy lifestyle, training both physical and mental training is essential, and it is important that you find the kind of training that giving you both, if training is just painful and no joy, it will be hard to have a continuous and stability in you training program, but it is also important to have various kinds of training, so try out different types of training to you find the types that fit best for you both physical and mental.
For me cycling and walking is the two types that I enjoy doing, but some times I also do other types of training, running, swimming, fitness…, but these types don't giving me the same mental relaxing, these are just physical training
🙂

If you will like to se all my training and rides you can find med on Strava
Short teaser video from a nice ride in January 2021
This is a fun downhill ride, falling 310 meters in just under 4 km
This is experience like this, that's is the reason why I'm enjoying getting out there, winter, spring summer and autumns, riding into a stunning sunset.
And this how its looks and feels when you are riding downhill on snowy, icy mountains roads a dark winter night